Hydraulic Fluids & Conductors
ISC Companies and affiliate Adams-ISC are distributors of mechanical power transmission parts. We can also supply some parts for fluid power applications. For more information about the brands we offer and/or pricing, please contact us by phone 763-559-0033, by email custserv@isccompanies.com, or by filling out our online contact form.
---
When constructing a hydraulic or pneumatic system, it is important to remember to not overlook fluids and the method used to move it from one location to the other. Characteristics of an ideal fluid include: thermal and hydrolytic stability, low chemical corrosiveness, high anti-wear characteristics, low tendency to cavitate, long life, water rejection, constant viscosity, and low cost.
Fluids
The basic functions of hydraulic fluid is to provide energy transmission, enabling work and motion. Fluids also lubricate components, are responsible for heat transfer, and they control contamination. Common types include:
Petroleum-Based: The most widely used for hydraulics. They are inexpensive and perform well with little maintenance. Tough applications that require wide temperature ranges, extreme pressure protection, and long life typically need premium-grade fluids. Non-petroleum fluids need to be evaluated for compatibility with the metals, seals, and elastomers in the system.
Fire-Resistant / Water-Based: These are used when petroleum-based fluids present a hazard. Major types are phosphate esters, water glycols, invert emulsions, and high-water-content fluids. These fluids tend to be more expensive and have some performance deficiencies.
Synthetic Oils: These oils consist of esters or hydrocarbons and are considered premium hydraulic fluids. Advantages include wide temperature ranges, resistance to oxidization, and good lubrication properties. Because of the high price, these should only be used where absolutely necessary.
Environmentally-Acceptable (EA): These are used where spilled hydraulic oil can be damaging to the environment. Vegetable-oil based EA fluids are suited for most hydraulic applications with any pump or valve.
Conductors
Transporting fluid from pump to valves, actuators, and motors is done in different ways. Pipe and tubing are used where rigid lines are preferred. Pipe is commonly used in permanent applications with long straight runs with large amounts of fluid. Tubing bends easily and is used in applications where routing around obstacles is needed or when disassembly is frequent. Steel tubing is the only type recommended for high-pressure hydraulic service. Copper, aluminum, and plastic tubing are suitable for low-pressure applications and pneumatic circuits.
A hose is widely used in applications where lines flex and bend. Reinforcement, construction, and dimensions vary among the designs, providing different pressure ratings and other performance features. Wire braids provide reinforcement between a rubber inner tube and outer cover.
Sizes are designated in 16ths of an inch by using a "dash" equivalent to the numerator of the fraction ("-10" is 10/16 or 5/8 inches in size).
Connectors
Connectors fill the gap between the hose or pipe and the mating port on the pump, valve, or actuator. Common types include:
Pipe Threads: Threads seal by metal-to-metal interference between fitting and housing. Pipe threads are widely used, inexpensive, and suitable for low pressure service. However, they are prone to leaks and the fluid is hazardous.
JIC 37 Degrees: These flare fittings seal by conical, metal-to-metal contact between mating male and female seats. They are the most widely used connector in the U.S. JIC (Joint Industry Council) couplings are inexpensive, simple, and work well in low-to-moderate pressures.
Flat-Face O-Ring: These connectors have a recessed O-ring seal held in a circular groove on the male connector. It mates with a flat, finished surface on the female end when assembled. Suitable for 6,000 psi service.
SAE Flange: Available in two domestic styles: Code 61 for 3,000 to 5,000 psi and Code 62 for 6,000 psi. Includes an elastomeric O-ring, set in a groove on the flange, that mates with the face of a pump, valve, or housing.
SAE Straight-Thread: The port seals with an O-ring between threads and flange. Suited for 6,000 psi.
Hydraulic & Pneumatic Filters
Filters are used because dirty fluids shorten equipment life, accelerate component wear, and lead to failure. Typically, a hydraulic system is cleaned by a single filter, usually located in the return line. Ten micron is the most common filtration level. In proportional or servo systems, 3 to 5 micron filtration is required on the pressure line.
Many systems also have a suction filter on the inlet of the pump, which has a filtration system to remove large debris that could get into the reservoir. Many manufacturers are opposed to this filter location due to the pressure drop it creates on the pump inlet.
---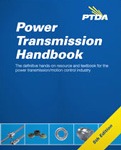 Content on this page was created using excerpts from the Power Transmission Handbook (5th Edition), which is written and sold by the Power Transmission Distributor's Association (PTDA). The Power Transmission Handbook is just under 400 pages and is a valuable resource for anyone involved or interested in the power transmission industry.