Pneumatic Compressors
ISC Companies and affiliate Adams-ISC are distributors of mechanical power transmission parts. We can also supply some parts for fluid power applications. For more information about the brands we offer and/or pricing, please contact us by phone 763-559-0033, by email custserv@isccompanies.com, or by filling out our online contact form.
---
A compressor moves specified volumes of gas against some working pressure.They are similar in concept and hardware to hydraulic pumps. Because air is compressed, the water trapped in the air releases and gets in the pneumatic components. So, it is important to have a filter with water removal, a cooler to lower the temperature of the air after compression, and a dryer to remove as much water as possible.
When selecting the size of a compressor, pressure rating and flow are the most important factors. Compressors can be sized to provide only the required pressure and flow, but 10 to 25 percent over capacity is preferred. Common types include:
Vane Compressors: Inexpensive, operate at low cost, and require little starting torque. The vanes slide in and out of the rotor slots as the compressor rotates, carrying air from inlet to outlet. Power ranges from 10 to 500 HP at pressures up to 150 psi.
Reciprocating Compressors: Consists of pistons that compress the air in the cylinders and valves that control inlet and outflow. Sizes range from less than 1 to over 5,000 HP.
Diaphragm Compressors: A modification of the reciprocating compressor, the piston in a diaphragm compressor flexes a metal or elastomeric diaphragm compressing the air inside the cylinder. Often used when clean air is required.
Centrifugal Compressors: Operate at low pressures and are best suited to move large volumes of air. They consist of a high-speed impeller, a diffuser section where air velocity decreases and pressure increases, and a collector section that further reduces velocity and increases pressure. They supply from less than 250 to over 20,000 cfm.
---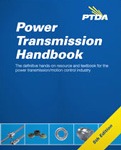 Content on this page was created using excerpts from the Power Transmission Handbook (5th Edition), which is written and sold by the Power Transmission Distributor's Association (PTDA). The Power Transmission Handbook is just under 400 pages and is a valuable resource for anyone involved or interested in the power transmission industry.