Back To Manufacturer List
Dichtomatik – Oil Seals, O-Rings
ISC Companies and Adams-ISC are distributors of Dichtomatik radial shaft seals, o-rings, hydraulic seals, fastener seals, molded rubber, and extruded/spliced cord. Dichtomatik was formed after the acquisition of American Seal, Transcom, Nu Seal, and International Seal by Freudenberg in 2002. Dichtomatik Americas was created as a result of FST purchasing Transcom and American Seal.
Product Groups
---
Oil Seals
Dichtomatik oil seals or shaft seals cover a variety of applications including axles, engines, trailers and high-pressure environments. They are used to seal around a rotating shaft and provide protection from dirt intrusion while retaining an oil-based lubricant within the shaft.
---
O-Rings

Two characteristics make up an o-ring, the shape and the material of construction. The shape is a circular torus or doughnut-shaped ring. Only two of the three primary dimensions—the inner diameter (ID), the outer diameter (OD), and the cross-section (CS)—are required to specify the size. Dichtomatik o-rings are available in almost any size and in a wide range of materials.
O-Ring Standard Size Master List
O-Ring Materials: Nitrile Rubber (NBR), Hydrogenated Nitrile Rubber (HNBR), Silicone, Viton (FKM), Teflon (PTFE), Neoprene, Kalrez, Polyurethane, Aflas, Teflon Encapsulated, Viton and Silicone, Ethylene Propylene Diene Monomer (EPDM)
O-Ring Seals: An o-ring seal has two basic components: the o-ring and the enclosed space that both compresses and contains the o-ring. The compression of the o-ring provides part of the sealing function. Additional sealing function is realized when the o-ring is activated by the pressure of the gas or liquid that the o-ring serves to contain.
---
Fastener Seals
Fastener seals consist of an inner rubber component used in conjunction with an outer metal washer that supports the sealing function of the fastener such as a screw or bolt. The rubber and metal combination creates an ideal fit to eliminate clearance gaps between the housing components and protects against leaks in static applications. Fastener seals are intended to take the place of an o-ring in certain assemblies. Dichtomatic types include Bonded Seals, DC Fastener Seals, and DCCL Thread Seals.
---
Fluid Power Seals
Fluid power seals are primarily used in hydraulic cylinder applications where high pressure and fluid maintenance is vital for optimum equipment performance. Common types include:
NuPac: a precision molded seal that combines a u-cup with an o-ring. Under zero and low pressures, the o-ring pressurizes the lips of the u-cup causing it to create a seal
U-Cup: ideal in rod and piston applications. Available in two compounds, nitrile (for low pressure, hydraulic/pneumatic cylinders) and polyurethane (maintains a water resistant seal)
Tee Seal: double acting seal that can be used as direct replacement for an o-ring. The T-shaped design prevents spiral failure that occurs with o-rings used in cylinders with long strokes
Rod Wipers: used to clear dirt, debris, and contaminants from the rod to protect primary rod-sealing elements
Wear Rings or Guide Bands: serve no sealing function, but are used to maintain the concentricity of the rod in the bore so sealing elements can function properly and won't wear unevenly
NuPacs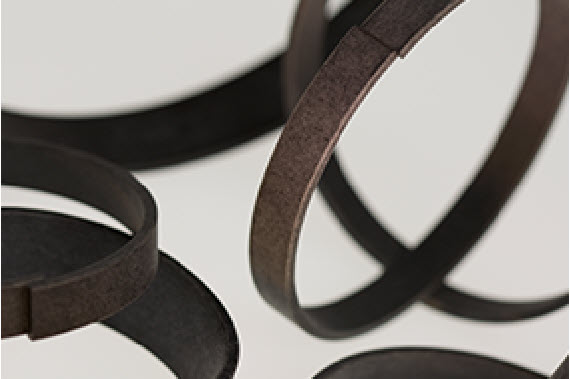 Wear Rings
U-Cups
Rod Wipers
Tee Seals
ISC Companies and Adams-ISC can supply the Dichtomatik products listed on this page and many others that can be found on the Dichtomatik website. Please contact us for more information or for a product quote.