Chain
ISC Companies and affiliate Adams-ISC are distributors of mechanical power transmission parts including chain. For more information about the brands we offer and/or pricing, please contact us by phone 763-559-0033, by email custserv@isccompanies.com, or by filling out our online contact form.
---
Chain drives for industrial applications transmit power from one sprocket to another via a chain. They are available for a wide variety of speeds, torque, and operating conditions. Chains reduce speed and increase torque from an input shaft to an output shaft, and some are used as conveyors. Other chain characteristics include self-lubrication, corrosion resistance, and lightweight material options.
Teeth on the the driving sprocket engage the chain, applying a tensile load that pulls the chain links and powers the driven sprocket. Only a few sprocket teeth are required for effective engagement, which allows for higher speed ratios than what a belt drive can achieve.
A wide variety of standard and non-standard chain and sprocket designs are available. The ASME (American Society of Mechanical Engineers) publishes standards, prefix ASME B29, for chains and sprockets
Advantages of Chain
Versatility: cut-to-length
Variety: many attachment styles, spacing, and materials
Flexibility: can bend back over sprockets while maintaining engagement and avoiding slippage
Durability: long operating life
Operates in hostile environments
Unlimited shelf life: will not deteriorate if stored correctly
Can be repaired or replaced without disturbing associated equipment
Can be sized to handle large HP loads and speeds
Disadvantages of Chain
May have higher operating noise levels (low noise and silent options available)
Will wear and potentially elongate over time
Slightly lower speed limitation than belt and gear drives
Need to replace sprockets because of wear when worn chain is replaced (unlike V-belt sheaves that are low wear)
View Chain Line Card  |  View All Line Cards
---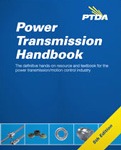 Content on this page was created using excerpts from the Power Transmission Handbook (5th Edition), which is written and sold by the Power Transmission Distributor's Association (PTDA). The Power Transmission Handbook is just under 400 pages and is a valuable resource for anyone involved or interested in the power transmission industry.